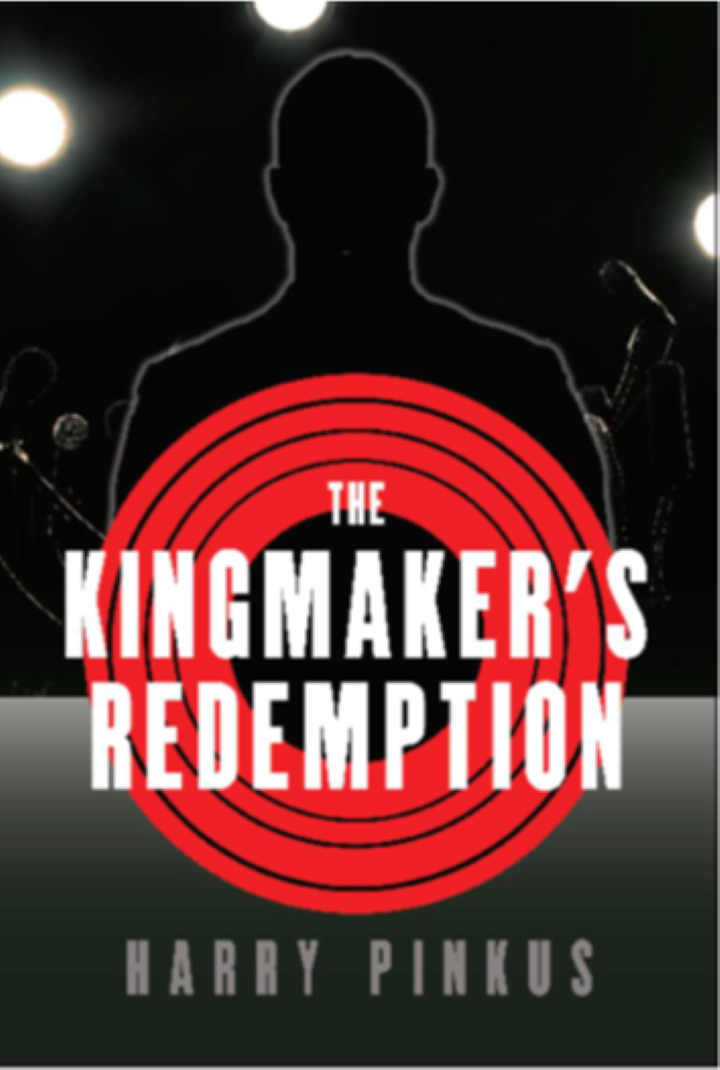 By Harry Pinkus
The Kingmaker's Redemption
Political Thriller
When political kingmaker Jack McKay chooses to change the arc of his life by representing a candidate he really believes in, he unleashes the full fury of his former client, Liberty Party leader, Randall Davies. Davies becomes laser focused on ruining Jack's career and his life.
Davies uses his sway over key individuals in Jack's orbit and his party's political connections to devise and implement a strategy to bring Jack down. Taking advantage of a DOJ crackdown on cybercrime, they successfully implicate Jack for a crime he didn't commit.
The heart of the story is the struggle of Jack and his team to unravel the conspiracy aimed at destroying his life. Gaining his acquittal in a suspenseful courtroom showdown would not only prove his innocence, restore his reputation and reinstate his parental rights, it would ultimately bring down the Liberty Party, their candidate, and Randall Davies in the process. If he fails, his life is ruined.
Check out this new video trailer for The Kingmaker's Redemption.
5-Star Review of The Kingmaker's Redemption from the Midwest Book Review.
The Kingmaker's Redemption is recommended reading for political intrigue readers seeking high-octane action, and provides a story of winners, losers, and subterfuge steeped in the power, money, and processes of the American political system.
Departing from the status quo and prior precedents comes with its problems, as Jack McKay discovers when he decides to support a candidate he really believes in rather than the party he's usually led to victory. His business is winning elections, but it's about to become the center of a whirlwind of controversy when Jack lends his considerable influence to a campaign for an Opposition candidate against the Party.
Liberty Party leader Randall Davies knows what McKay's decision means to his chances. Forces that operate behind the scenes contrive to implicate McKay in a crime that will sully his reputation and limit his ability to be a political influencer.
As the conspiracy gains momentum in the courts, McKay and his team are drawn away from their original objective and into a trial that leaves him fighting for more than his reputation, even as he learns new things about the process and the people behind it: "Jack was getting a real insight into what the prosecution was likely planning to present. He might have actually enjoyed the education had his life not hung in the balance."
Harry Pinkus crafts the perfect intersection between legal and political thriller, cementing action with strong characters that operate on both sides of the election process, with special interests and influencers on all sides.
The personal challenges McKay faces as his choices affect family relationships and career are as much on the line as the question of who will win the election.
More than just a story of innocence and guilt, Pinkus calls into question motivation, political and legal processes, and fluctuating relationships changed by new realizations.
The Kingmaker's Redemption is as much a story of survival, enlightenment, and changing interpersonal connections as it is a political legal thriller. Audiences who enjoy investigative mysteries operating at high levels of political circles will relish a story that winds through drama and action, adding a dash of romance as icing on the cake of intrigue.
THE KINGMAKER'S REDEMPTION WAS RELEASED ON SEPTEMBER 1, 2021. 
IT IS NOW AVAILABLE AT MANY BOOKSTORES AND ONLINE BOOK OUTLETS. 
NOW ALSO AVAILABLE AS AN AUDIO BOOK ON AMAZON AND AUDIBLE.
CHECK WITH THESE FINE BOOKSELLERS FOR DETAILS BY CLICKING ON THEIR LOGO.