BQB PUBLISHING READING GUIDES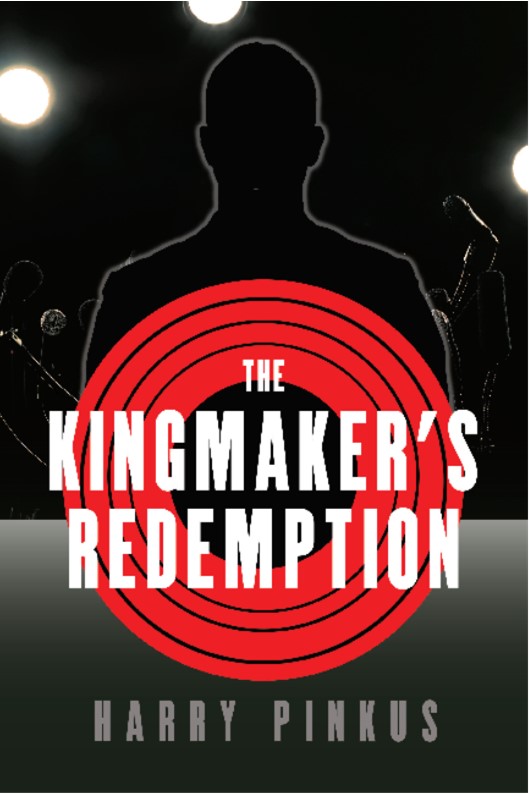 The Kingmaker's Redemption
Political Thriller
Harry Pinkus
When political kingmaker Jack McKay chooses to change the arc of his life by representing a candidate he really believes in, he unleashes the full furry of his former client Liberty Party leader, Randall Davies. Davies becomes laser focused on ruining Jack's career and his life by having Jack framed for a horrible crime he didn't commit.
Davis uses his sway over key individuals in Jack's orbit and their political connection to devise and implement a strategy using a DOJ crackdown to implicate Jack in a crime he didn't commit. His legal team must unravel the scheme aimed at destroying his life and sabotaging the campaign. If they fail, his life is ruined.
DISCUSSION POINTS
The decision Jack makes impacts so many people in his life. Is backing Lindsay Revelle worthy of the struggles it causes for everyone?
A major source of concern for the executives at Jack's company is the impact his work on political campaigns has on their corporate clients. Should he be active in both arenas?
Compounding Jack's troubles, is his crumbling marriage. So many marriages fail because one of the spouses is overly committed to their work, what steps should Jack have taken to avoid this common cause of divorce?
Gaining his acquittal in a suspenseful courtroom showdown would not only prove his innocence but also restore his reputation, and reinstate his parental rights. How does the average person with limited resources even hope to enlist the aid they need should they be caught in a similar situation?
A major component in Jack's successful defense is the role the press plays in exposing the conspiracy. Isn't this exactly what a free press should do?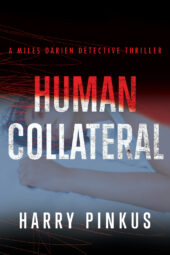 The Kingmaker's Redemption
Detective Thriller
Harry Pinkus
About the book
Fans of Louise Penny and James Patterson will love the intricate plot twists Private Detective Miles Darien is forced to overcome.
Lakeville Private Detective Miles Darien and his friend, journalist Ryan Duffy, are hired to locate a missing woman, Olivia Sims. Her Chicago apartment offers a singular clue: a medical bill detailing a number of laboratory tests which left Miles with more questions than answers.
On a second trip to Chicago, Miles and Ryan locate Olivia's friend and co-worker, Janine, who takes them to see her. They find Olivia battling a massive infection, the result of an amateurish surgical procedure to remove a kidney. She had been in seemingly insurmountable financial trouble and had turned to a loan shark for money. This loan sharking operation required their clients to pledge body parts as collateral for loans and keep quiet about the agreement. When Olivia was unable to repay her loan, she was forced to surrender her kidney. The heart of the story is how Miles and Ryan, with the help of the FBI, thwart the attempt of the criminals to silence Olivia and preserve their illegal enterprise resulting in a dramatic showdown with the mastermind of the loan sharking operation.
DISCUSSION POINTS
What formed the bond between Miles and Ryan?
How did Miles end up in Lakeville?
What case propelled Miles into local prominence as a private investigator?
Why was Olivia being pursued by the loan sharks?
What was Miles worried about upon his return to New York City?
How did Miles and Ryan find a doctor for Olivia?
How did Reese escape capture by the FBI?
What clue did Miles uncover in Olivia's apartment?
What type of case did Bobbie offer Miles?
What was the surprise gift Ryan gave Olivia?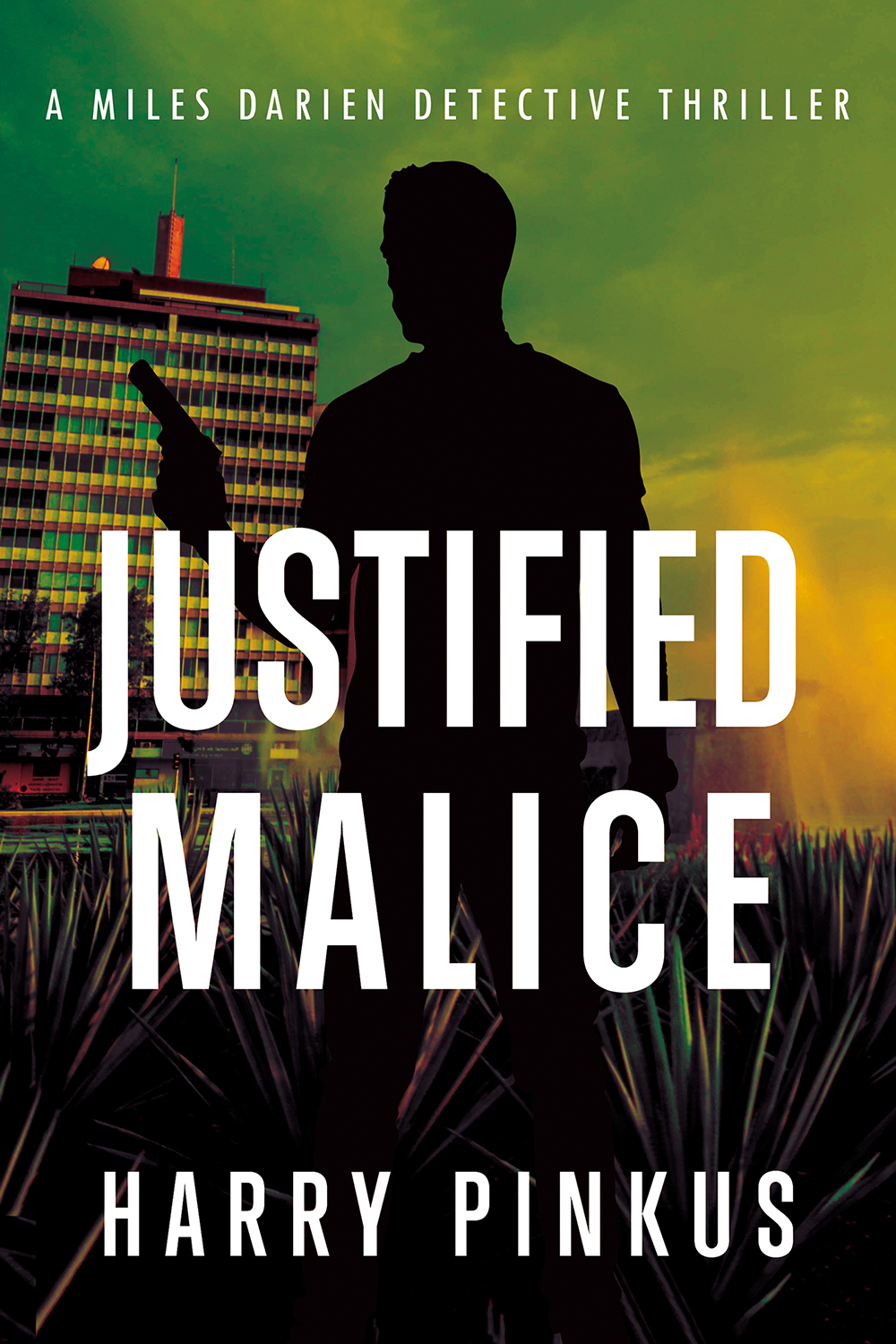 Justified Malice
Detective Thriller
Harry Pinkus
About the book
Private Detective Miles Darien is haunted by the escape of crime boss Jonathan Reese whose loan sharking operation had victimized numerous "clients" who were unable to pay off their loans. One of those victims was Miles' friend Olivia Sims.
Miles and the FBI had set up an elaborate sting to bring down Reese's operation. The sting was successful except Reese had evaded the trap Miles and the FBI had set up to capture him.
Months later, while Miles is on another case in Mexico, the FBI learns that Reese has set up shop there, outside of their jurisdiction. When the FBI asks for help pinpointing his location, Miles jumps at the chance to finally bring Reese to justice. When he and his journalist friend Ryan come up empty in their search, Miles makes a risky and dangerous choice. He asks the local Mexican cartel for help. He explains to them that taking over Reese's operation would be a most fair bounty for helping to locate him. When the cartel finally agrees to assist, they provide an unexpected location, Reese is operating out of a villa in Havana.
The FBI organizes a raid only to find the hideout abandoned. Miles once again makes the risky decision to turn to the cartel. They provide him with a one word update, Chicago.
DISCUSSION POINTS
1. Why did the FBI turn to Miles to assist in locating Jonathan Reese?
2. Why was Miles headed to Mexico when he was asked to assist the FBI in locating Reese?
3. What was the clue that unraveled the case of industrial larceny in Guadalajara.
4. How did Miles come to solicit assistance from the cartel?
5. How did Ryan uncover the location of Reese's business?
6. Why was Miles forced to leave Mexico and fly to Miami?
7. What role did the Mexican mafia in Chicago play in Resse's game of cat and mouse with the FBI?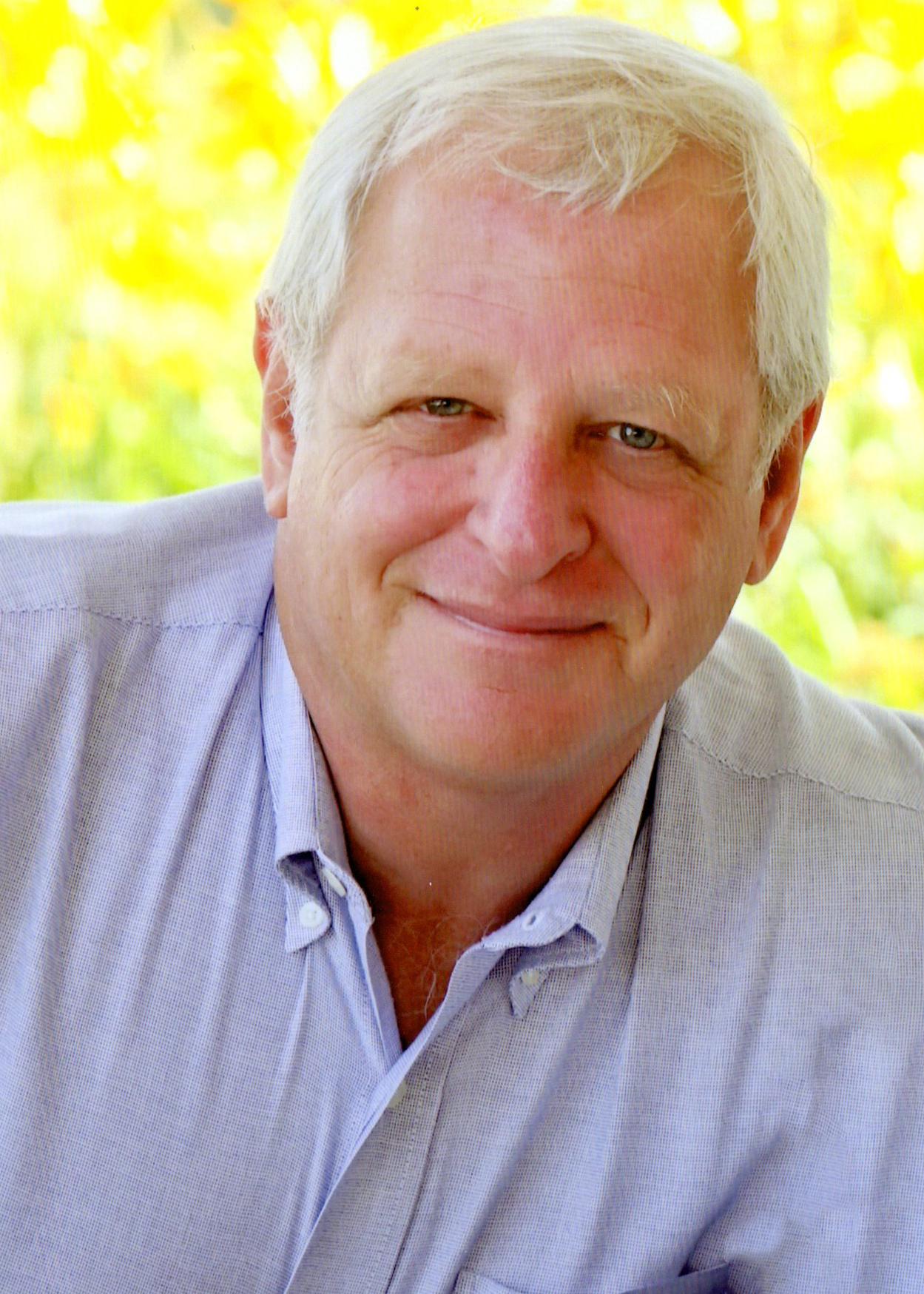 About the Author
Harry's passion for writing was ignited at the University of Wisconsin where he studied journalism and wrote for the campus newspaper. After many years as a partner in a marketing firm, he turned his attention to writing fiction. Coupling that passion for writing with his love of mysteries and thrillers, Harry completed his debut novel, The Kingmaker's Redemption and has now followed up with a second novel, Human Collateral.
"After so many years writing content for my clients, I finally decided to write something for myself. This novel has allowed me to creatively express my point of view through storytelling. I can't wait to get started on the next one."
Harry and his wife Jackie live in Milwaukee, Wisconsin.