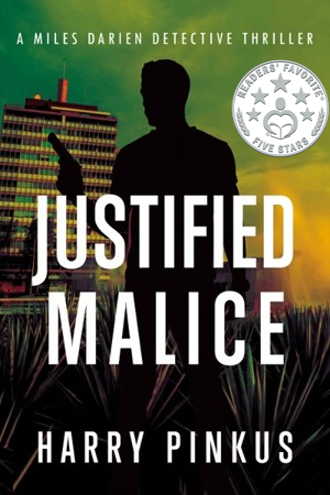 Justified Malice 5-Star Review
by Alma Boucher for Readers' Favorite
Justified Malice by Harry Pinkus is an excellent thriller. I was intrigued from the first page until the end. It was fast-paced and action-packed. The events were descriptive and easy to visualize. With all the twists and turns, I never knew what to expect next. The suspense kept me on the edge of my seat. I could not put it down and turned the pages as fast as I could. The characters were well-developed. The story was excellently written, and I was guessing until the very end. It was much more than I expected and exceeded my reader's expectations by far. 
The book launches on October 24th but is available on preorder from most online booksellers.
By Harry Pinkus
Justified Malice
Detective Thriller
Private Detective Miles Darien is haunted by the escape of crime boss Jonathan Reese.  Miles and the FBI had set up an elaborate sting to bring down Reese's loan sharking operation. The sting was successful except Reese had evaded the trap Miles and the FBI had set up to capture him.
Months later, while Miles is on another case in Mexico, the FBI learns that Reese has set up shop there, outside of their jurisdiction and asks Miles for help pinpointing his location. When Miles and his journalist friend Ryan come up empty in their search, Miles makes a risky and dangerous choice. He asks the local Mexican cartel for help. When the cartel finally agrees to assist, they provide an unexpected location, Reese is operating out of a villa in Havana.
The FBI organizes a raid only to find the hideout abandoned. Miles once again makes the risky decision to turn to the cartel. They provide him with a one word update, Chicago.
Justified Malice Review
by Thomas Anderson for Literary Titan
In Justified Malice, Miles is once again catapulted into a high-stakes mission, this time journeying through the vivid terrains of Mexico. Tasked with an undercover assignment for PG Parts—a company ensnared in an embezzlement whirlwind—Miles is driven by a dual ambition: to resolve the case promptly and to relish a vacation alongside his cherished partner, Ken. But destiny has other plans. The re-emergence of the elusive Jonathan Reese in the heart of Southern Mexico sets the stage for a riveting confrontation. Miles, grappling with bygones and lamenting his past oversight with Reese, is galvanized with renewed resolve to corner his nemesis, even if it necessitates allying with local cartels.
Justified Malice boasts a mesmerizing mystery, well-conceived and laden with intricate layers. The meticulous design of the plot is evident, pulling readers into a vortex of suspense with each unfolding chapter. While Miles may initially seem like a conventional lead, it's his steadfastness and professional fervor that underscore his significance. Ryan, however, emerges as the novel's unexpected heart, propelled by personal loss and a pursuit for closure amidst chaos. While I enjoyed the story, I felt the narrative's reserved approach to early suspense, notably during the bomb episode, could have been improved. Heightening the immediacy and tension of such moments might have heightened the immersive thrill for readers. But this is a minor point in an otherwise riveting novel.
Justified Malice is an exhilarating read, blending crime, suspense, and deep-seated grudges into a compelling tale. It showcases an intricate plot, unforeseen deviations, and characters that linger in memory. For fans of detective mystery novels, this is an indispensable addition to their collection. Brace yourself for a whirlwind of mystery and suspense that keeps you riveted until the closing page.
Check out this new video trailer for Justified Malice.
JUSTIFIED MALICE WILL  BE RELEASED ON OCOTBER 24, 2023. PRINT AND eBOOK VERSIONS

WILL BE AVAILABLE AT MANY BOOKSTORES AND ONLINE BOOK OUTLETS. 
CHECK WITH THESE FINE BOOKSELLERS FOR DETAILS BY CLICKING ON THEIR LOGO.